Wookey Hole WI was founded on Feb 12 th 1947 at an enrolment meeting in Wookey Hole Club, attended by 38 prospective members. .Numbers rose steadily until, in the mid 1950s there were 80 members, then declined, partly due to the withdrawal of the evening bus service to and from Wells. By 1985 there were less than twenty members, and the Institute nearly went into suspension, but numbers rose again, currently the membership stands at 25. The Institute also changed from evening to afternoon meetings. Over the years it has met in every available venue in the village, even having drama rehearsals in the church. Now meetings are held on the first Monday of every month, in Wookey Hole Community Hall.
Details

Category: Clubs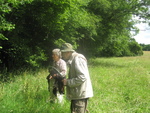 We'd like to invite you to our weekly butterfly walks.
From April to September we walk up the Mendips once a week recording all the butterflies we see. It's always the same walk, meeting at the Caves car park and going up from Ebborlands Stables and down School Hill, but the day and time varies according to the weather - we try to catch the warmest brightest day.
Details

Category: Clubs