This was our last meeting before the summer break although we have a few social events planned. We recently had a garden party on a glorious afternoon.One of our members brought pots of miniature roses and many of our ladies took one home. Jill welcomed everyone including our speaker Nick King and his daughter Demi from Goats of the Gorge Skin Care. Resolutions , Bursaries and dates for future events were discussed including the date for the WI Christmas Carol Service in the Cathedral. We finalised arrangements for our group visit to the Lavender Farm in July and two coffee mornings are to take place during our break. Margaret has been busy knitting knee blankets for dementia patients And we plan to fill Christmas Shoe Box gifts for young people. Our speaker had been a Police Officer for twenty years, but following an illness where he was required to drink goats milk, he decided to keep goats at his Cheddar home .Two goats soon became twenty four and as business grew so did his notoriety. His goats were even on C Beebies. Products made from the highly beneficial milk soon followed and we were shown soaps, lotion ,cream, and also a shampoo bar that was plastic free. Lavinia thanked him for his entertaining talk .He and Demi judged the competition for a beauty tip or disaster. 1 st Jan…2nd Sue H …3 rd Jill Flowers ….1 st Lesley R…2nd Jill…3rd Jan. Jill thanked those who provided the tea and cakes Visitors and new members are most welcome to join us on the 1 st Monday in September. 2.30pm at Wookey Hole Community Hall. We can promise a friendly welcome and an entertaining afternoon. Jill Deane. Wookey Hole W.I. Photograph attached showing the arrangements of miniature roses that ladies were able to take home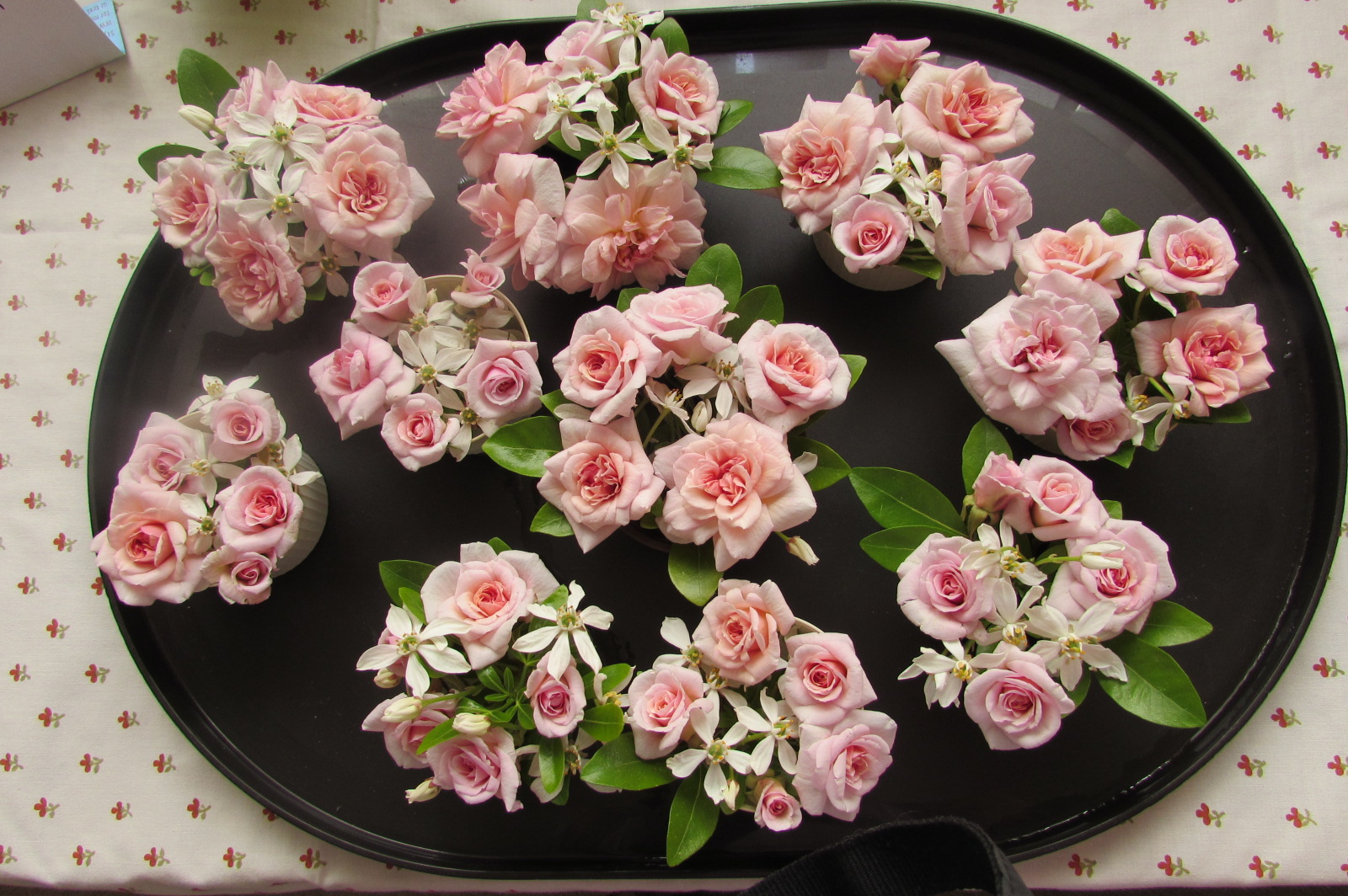 Details

Category: Clubs
Our meeting began with a rousing rendition of 'Happy Birthday as Pauline F is due to celebrate a very special day. Our W.I. also had cause to celebrate as it was our 72nd Birthday. We ,and two invited guests, enjoyed a delicious lunch at the Burcott Inn.
Next month is our AGM so nomination forms were completed and then our thoughts turned to Summer Activities. Most involved food and relaxation.
Our speaker was Nicky Houston from Killens Auctioneers.For those of us who are Bargain Hunt
fans this was 'just up our street'. The daughter of an auctioneer she began at an early age and then studied Fine Art valuation. She explained how fashion fluctuates and changes with each generation.
Regulations and licences must be adhered to eg. sales of ivory and rosewood. Porcelain origin etc
was fascinating and Ercol furniture and Vinyl records are now the 'in thing'.
Our competition was 'Bring an antique item ' Much to our delight she told us about our items that had interested her. It was quite an eye opener .Sheila thanked her for a talk which , had we more time . we could have happily extended.
comp. 1st Sue H 2nd Sue B 3rd Elizabeth
Flowers 1st Pat 2nd Elizabeth 3 rd Lesley R
We meet on the 1st Monday of the Month 2.30pm at Wookey Hole Community Hall.
Next meeting on 13th May due to May Day
Visitors and New Members welcome
Details

Category: Clubs
Thankfully the snow cleared but our numbers were still depleted due to coughs, colds etc . Best wishes were sent to absent
members. Our resolution votes were announced and the majority of us were concerned about country bus services.
Monthly coffee mornings are most welcome and provide a chance to chat, and plans are in hand for our 72nd birthday celebration
next month. Twelve photographs depicting a year in the life of our WI have been approved and sent to Wilton Lodge for the
Elizabeth Bell competition. We have been busy !
Jill welcomed our speaker Pamela Egan an English Language Graduate. She began visiting Russia in 1989 at the invitation of Russian
teachers who were trying to teach English but had never heard it spoken. Obtaining a Visa and getting through customs was very
difficult but she was given a warm welcome on arrival. However she felt as if she had slipped back 50 years and described a Moscow
with no cars . She travelled to Yaroslavl and despite seeing beautifully carved wooden houses she also saw neglected buildings and
deprivation. There were no obvious shops and very little food. She saw an unequal society as some were clearly priviledged and
people had some strange and misguided views of life in our country.
Pamela last visited in 2006 and told us that buildings have been restored to their former glory and the markets are full of food
Her speakers donation will be sent to Child Aid. The charity helps young people in Eastern Europe. She was thanked by Rose.
Competition for something Red ......1st Jill , 2nd Jan , 3rd Pat Entries were varied and most interesting
Finding a flower of the month was difficult due to the snow..... 1st Pat , 2nd Jill, 3rd Jan
We meet on the first Monday of the month at 2.30pm in the Village Community Hall . Visitors and new members are most welcome.
Jill Deane
Details

Category: Clubs
WOOKEY hOLE W.I. MARCH MEETING REPORT

A PAIR OF BANDY LEGS !

Jill welcomed everyone especially those who had recovered
from winter coughs and colds. Hopefully everyone will be fighting fit
when we celebrate our 72nd Birthday later

this month.

Our speaker ,Ray Palmer, fascinated us with his talk '
Understanding Hereldry'. His interest began when, as a small boy, he
played on bomb sites and pretended to be a knight.

In 1127 King Henry 1st knighted his son in law , and so it began.
A Herald was like a walking bill board spreading the news. A coat of
arms was initially a cloth draped over the armour.

This identified friend or foe. Tudor Kings played their part in
the development and Henry 8th enjoyed the colourful tornaments. One
needed to be 'worthy' to be granted a

'Coat of Arms' and each one told the story of the person concerned.

Ray showed us examples of these including the crests of our
younger Royals. The WI has its own Coat of Arms . It was made by West
Kent members in 1976 and has been displayed

annually at the N.F.W.I. conference. Maggie thanked him for his
most informative talk.

Ray enjoyed judging our competion which was 'Create your own
Coat on Arms '. Among the depictions of animals , needlecraft, hikeing
,cooking etc were a pair of bandy hairy legs.

The legs were pictured on a large vitamin tablet and Ray hoped
that they didn't belong to any of our ladies !

1st Jill ...2nd Lesley Ricketts .....3rd Rose. Flowers 1st
Lesley R......2nd Elizabeth.....3rd Myrtle.

Do join us on the 1st Monday of the month . 2.30pm at Wookey
Hole Community Hall. Visitors most welcome.
Details

Category: Clubs
Jill welcomed everyone back after the Christmas holiday although our numbers were deplete mainly due to illness .
Members were thanked for the extra items that they had given to the Food Bank. We were told that extra parcels were able to be provided to those in need over the Christmas period.

It was Resolution voting time and we quickly completed our choices.

Our speaker was Christina Blackwill who demonstrated 'The Great British Shake Off'......Keep Fit with Shakers. Tina visits many different groups and she soon had us joining in with her as we shook our shakers in time to the music. She was careful to warn us not to move any parts of us that hurt and several of us made a mental notes to protect our vulnerable 'bits' . We didn't need to worry though as it was fun , gentle and enjoyable. It was probably the nearest thing we shall get to being Cheer Leaders !

Pauline J thanked her for an entertaining afternoon .

The competition to make a pom-pom reminded us of the cardboard milk bottle tops that we used in the past . There was even a hole in the middle for the straw.

1st Jill D ....2nd Pat B.....3rd ....Myrtle S

Flower of the Month. 1st Elizabeth R ...2nd Jill D.....3rd Pat B

It appears that our gardens are still providing lovely blooms.

Jill Deane Wookey Hole WI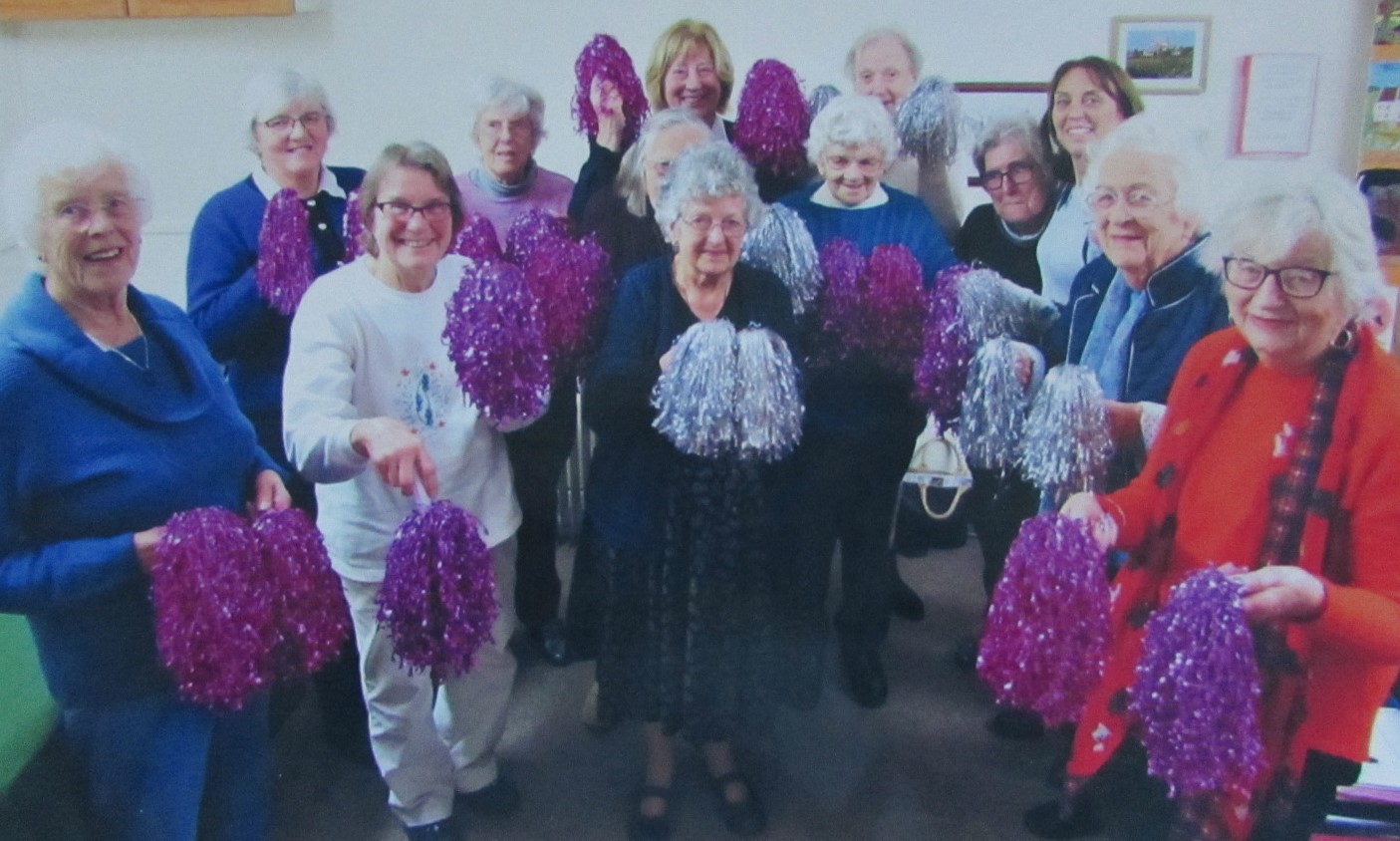 Details

Category: Clubs