A few years ago Lucy White was invited to think of a social club that could be useful in Wookey Hole in gathering people together for enjoyable times.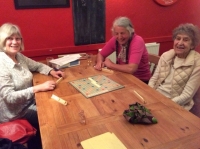 Lucy loves playing Scrabble and wanted to find likeminded people so started a Scrabble Club by delivering notices about it door to door .
The first session was held in the WH Club and a grand total of 16 people came to it. We had a lovely time playing, and chatting as we played. Over the years it has become a twice monthly event. We play on the first Wednesday of every month and the third Tuesday and meet at 7.30 in the Club. The numbers now are usually about six to eight people, sometimes more, sometimes even just two. It is
a relaxed and friendly evening and someone always has a dictionary available to check dodgy words!
Please feel free to come, either as the mood takes you or regularly. You will be more than welcome!
There is no charge and drinks can be bought at the bar.